Private Car Restriction Information
Purpose
To ease traffic congestion during the peak season and protect the natural environment from exhaust fumes.
To prevent traffic accidents along the narrow access roads.
Details
The roads will be closed to private cars from the evening of the day before the traffic restriction period.
Shuttle buses will operate in the daytime along the access roads during the traffic restriction period.
Traveling by bicycle or other light vehicles as well as walking on the access roads is prohibited.
Visiting the area for fishing or any other activity other than hiking is also prohibited.
The shuttle buses going to Ginsendai and Kogen Onsen will depart from the Lakesite Parking Lot.
Restricted Areas and Period
Route 1162 Ginsendai access road → (15-24 Sep 18)
Kogen Onsen access road → (21-30 Sep 18)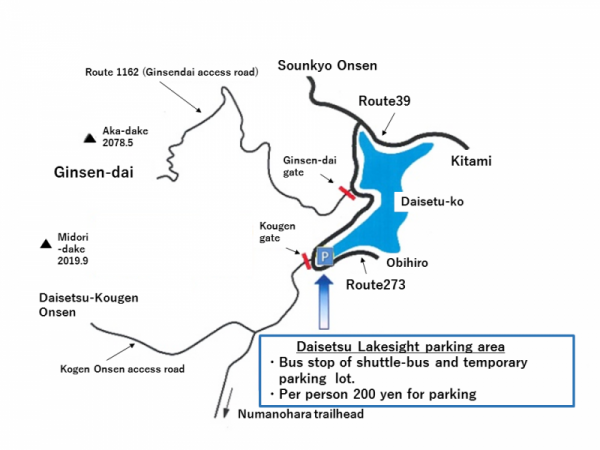 Ginsen-dai aka-dake Hiking Trail (PDF:57.8KB)
Daisetsu Kogen Onsen Numa-Meguri Hiking Trail (English) (PDF:2.17MB)
Daisetsu Kogen Onsen Numa-meguri Hiking Trail (KOR,CHN,TWN,THA) (PDF:381KB)